Spatial can be configured to output audio over the network using the AES67 standard. Below you will find a step by step guide on how to configure Spatial Reality to output audio as AES67 streams.


In This Article

General Setup
We recommend setting up a dedicated audio network that is isolated from your main internet network. Make sure to set up your devices and equipment before proceeding with setup in Spatial Reality.
Spatial requires an external PTPv2 clock on the audio network. Before setup, ensure that one of your audio devices (usually, the DAC or network amplifier) provides a PTPv2 clock.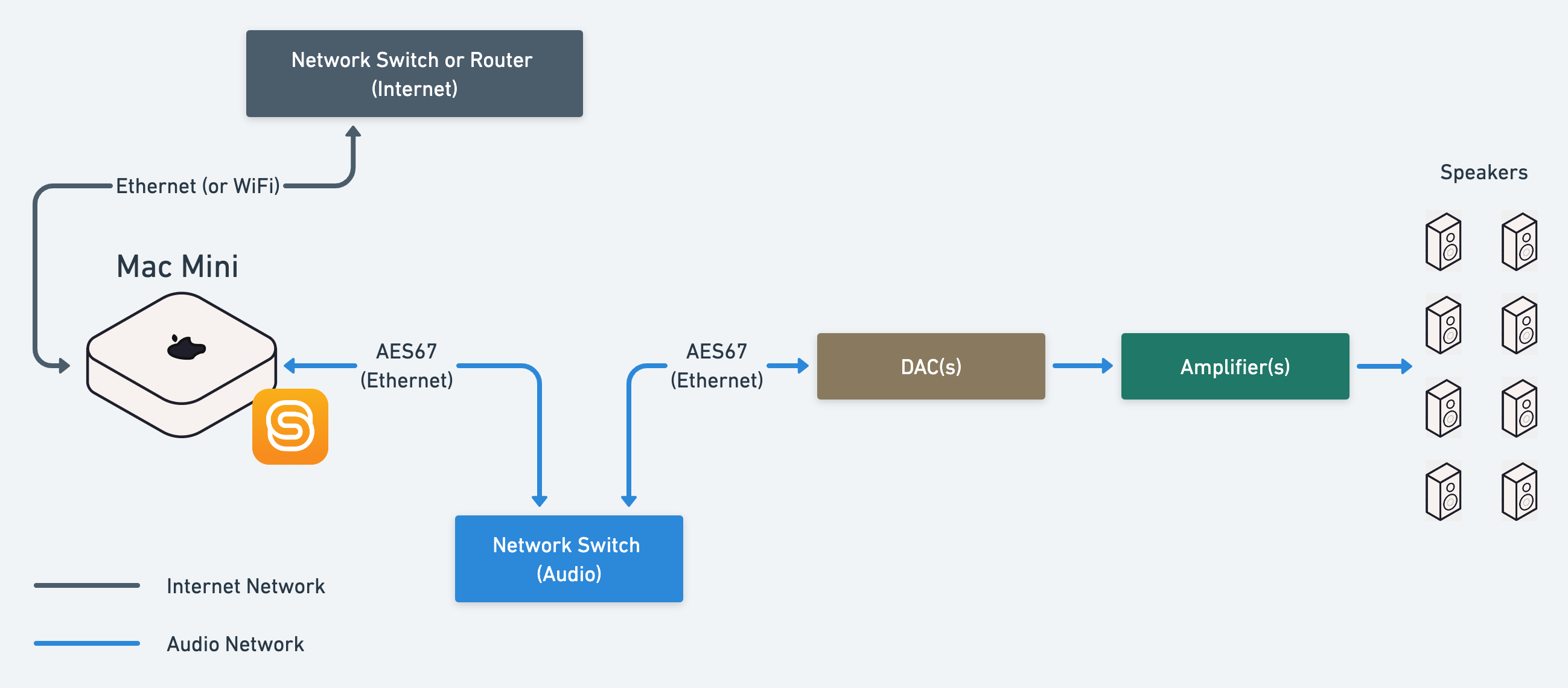 Audio network wiring diagram example
Note: The audio network switch is required when using several devices (multiple Digital to Analog Converters [DACs], AES67 input source, etc.). Audio network switch is optional if only using a single device (Mac Mini to a single DAC).


Spatial Reality — AES67 output configuration
To configure Spatial Reality to output audio over the network, select AES67 on the

Audio Interface selection screen.




Configure the audio network settings



Streaming Interface: select the network interface that is connected to your audio network.

RTP Multicast IP Address:

The default address of 239.69.1.1 will work for most cases. The address can be edited for advanced setups. Make sure that all of your audio network devices are using the same prefix (e.g.

69

for the 239.

69.x.x range). The configured IP address should not be in use by any other device on the audio network.


Enable IGMP Querier: Some network routers and configuration don't forward multicast traffic. Enable this setting to make sure that audio network packets are forwarded correctly. This is an advanced setting and can cause unwanted behavior on complex networks.





Click

Next to confirm your configuration settings, and then proceed with finishing the setup for Spatial Reality.



Once Spatial Reality is set up to output AES67 audio streams and is successfully running, you will need to set up audio routing to your devices.
Audio Routing
Most networked audio devices will allow configuration of audio routing in Dante Controller. Follow the instructions below to route audio from Spatial to your networked audio device.
Enabling AES67 Mode for the receiving device (DAC, or Network Amplifier)



Open the

Device View of your receiving device to configure settings.



Navigate to the

AES67 Config

tab, and set

AES67 Mode

to

Enabled.



The default

RTP Multicast Address Prefix

is usually set to

69

by default, but can be edited if needed. Make sure that all your devices on the audio network have the same prefix, including Spatial Reality.

(See how to configure the RTP Multicast IP Address for Spatial Reality above.

)




Reboot the device to apply the settings.


Configure audio routing from Spatial to the receiving device.
Navigate to the

Routing tab of Dante Controller.



Under

Transmitters,

you should see your AES67 streams generated by your computer running Spatial Reality.
The stream names will be the same as your computer name.

Each stream contains 8 channels each.
Now route the desired channels from the Spatial Reality Computer to your receiving device(s)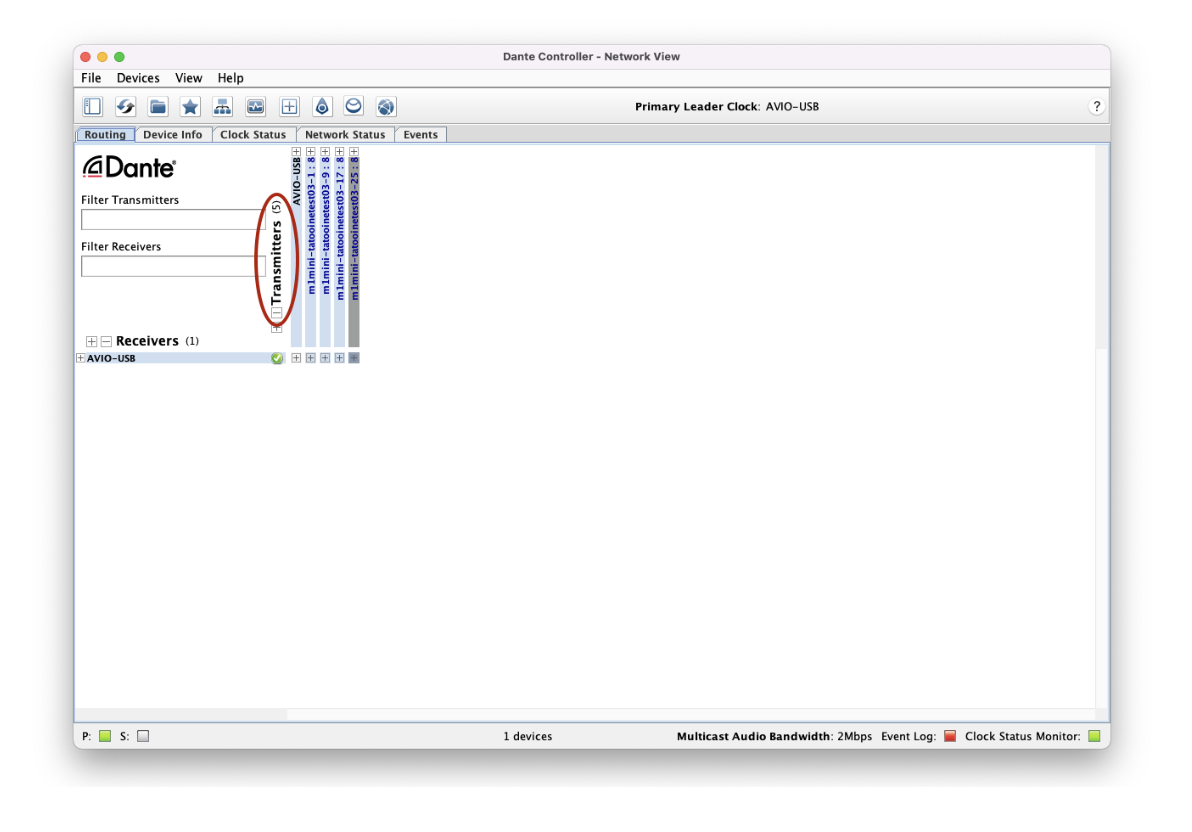 A green checkmark next to each channel routing represents a successful route.


You should now have audio routing set up correctly.


Go ahead and create a new
Space using Spatial Control
. You'll be able to test every channel during Space setup.
Spatial Reality — Changing AES67 Output Settings
Once you've configured Spatial for AES67 output during the initial setup, you can always change any of the settings by navigating to the Status Bar Menu → Settings → Audio Interface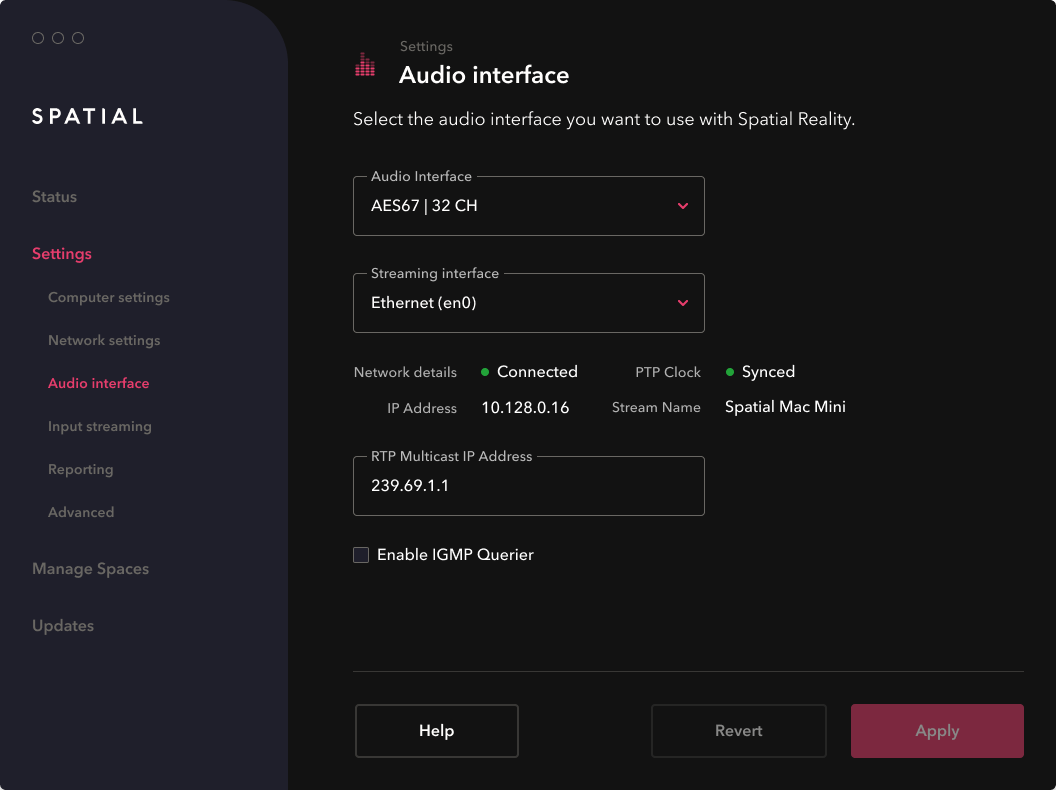 If you are experiencing any issues, the Audio interface settings page is also a good place to check the status of your network details and the PTP clock status.
PTP Clock Status: Here are some details on the various PTP clock statuses that can be helpful during troubleshooting.
Synced: Spatial Reality is synced to a PTP clock.
Not Synced: PTP clock was found but Spatial Reality has not synced to the available clock. After a fresh restart, it can sometimes take a few minutes for Spatial Reality to sync to a PTP clock. Wait a few minutes and check again. Make sure that there is an external device that is providing a PTP clock on the audio network.
Not Found: Spatial Reality cannot find a PTP clock on the audio network.
Unknown: Spatial Reality is unable to determine the PTP clock status.
Make sure that Network details indicate a Connected status with a valid IP address. If the status indicates Unavailable, Spatial Reality is unable to find the configured network interface. Make sure that the network dongle and/or cable are properly connected to the audio network.