Creating your account is only the beginning to unlocking a whole new experience with immersive audio. With Spatial you have a couple of choices on how far you want to take that experience.
In This Article
Pricing Plan

Creating An Account
You can start by creating an account on Spatial Central. You will be asked to create a new user with your email, then add an avatar, name, and sign in.




If you are new here, you will start by creating your first Spatial Site (the place you plan to experience Spatial). This could be your home, office, or maybe its the that new concert hall you've been dreaming up! Click Add License.




Next you will create your Computer and Spatial License: Spatial or Backstage Pass.


Backstage Pass
If you are looking to use Spatial for personal use and create your own scenes in Spatial Studio, then Backstage Pass is for you. It is a creators paradise to do as you please as long as it's not for commercial use. If you intend to start off as a backstage pass user and then eventually take your scenes to a commercial level, you can easily upgrade your account.
With backstage pass you will have limited access to content created by other sound artists. However, you will have full access to all the support articles explaining how Spatial Studio works, and most importantly, the ability to contact our support team for help at any point along the way.
Spatial Account
Okay, so you're ready to use Spatial in the new dinosaur museum you just built in your backyard, and your neighbors are lining up to step back 100 million years into the Mesozoic Era.
This is where you will want to chose Spatial for your license. Your setup might require only one computer (32 Channels) or possibly 10+. Each computer group costs a yearly fee of $10,000 and includes shared scenes, premium customer support, 10 spaces to play Spatial in (each space using the same or different scenes).


Trying to take your dinosaur museum to that 1 million SQFT lot thats for sale? Contact us to help you build a more advance Spatial Experience.
Once you have chosen the right amount of computers you need to get started, you will be asked to pay for your new Spatial License. Currently we only accept credit cards charged in USD. If that does not work for you or your company, just let us know.
You made it! Let's get started by downloading Spatial Reality and possibly adding users to your account to help control your scenes.
Downloads
Every Spatial listening experience requires a couple of things:
A Computer to run Spatial Reality. This is typically managed on a mac mini. When creating your first Site, Spatial will help you decide how many computers you will need and what type of access / level you'll be using it for. This is the difference between Spatial and Spatial's Backstage Pass.
A separate computer to create sound scapes on Spatial Studio. This is for creators and not required.
An iOS device to manage your Spaces, People, and Scenes with Spatial Control.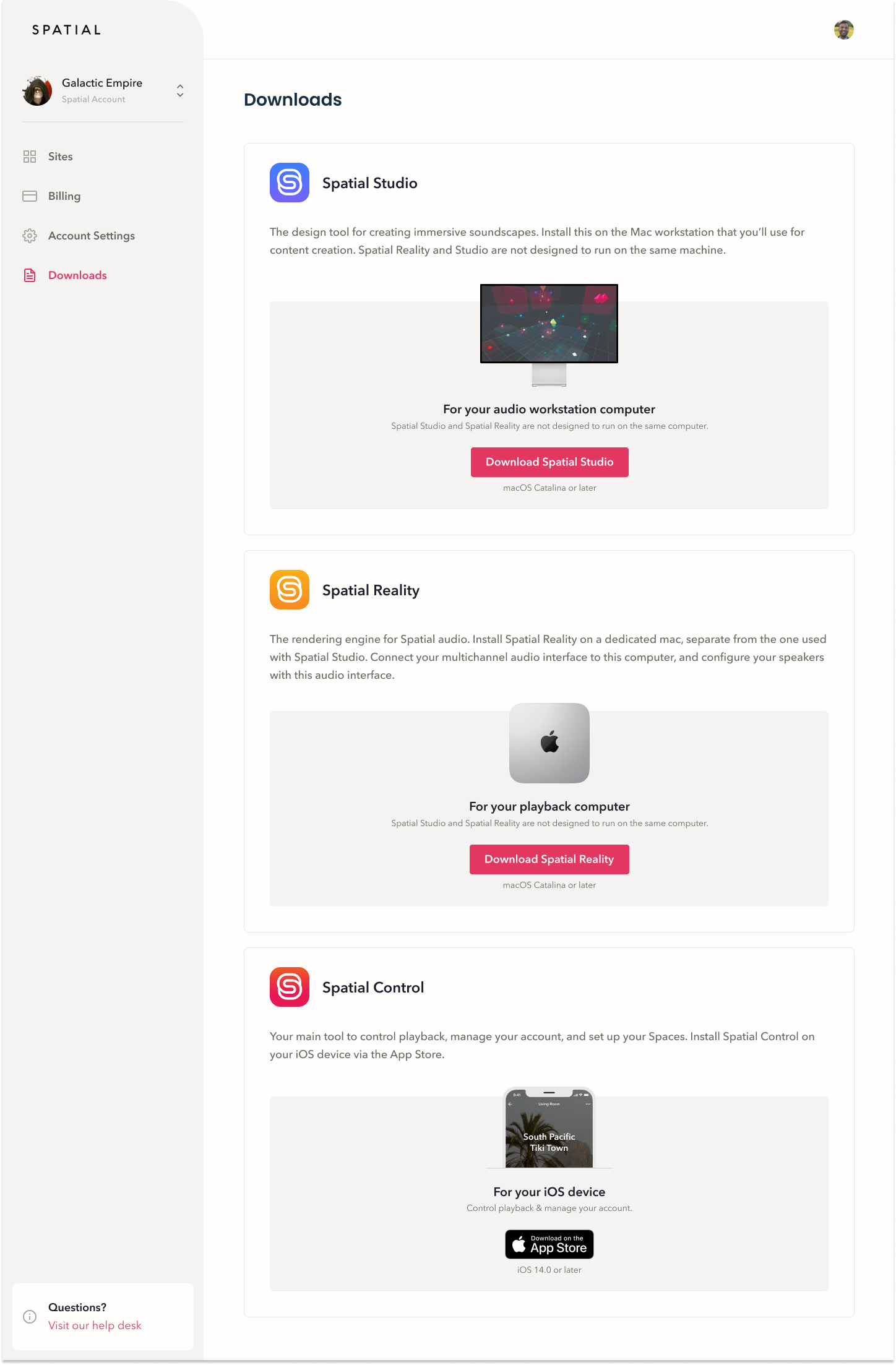 Setting Up Spatial
Follow these next steps to get your space together.