In this article:
Create A New Space Using Spatial Control
Download Spatial Control from the App store if you haven't already, and sign-in.

If you haven't already, you will need Spatial Reality installed before proceeding.

Menu → Manage → (Select a Site) → Create new Space.
Specify a unique Space name.
Select the computer group that will be used to drive this Space (one computer group can drive multiple Spaces).




For step-by-step Space creation instructions — tap I don't have a file. Guide me.

Note: Advanced users can learn more about importing a raw Spacemap file in this article.


Next, you'll select the channels from each computer that you want to use for this Space. Each channel will be assigned to a speaker in this Space.

Tap a computer to expand the list of available channels from that computer.
You can tap the ▶️ button to play a test tone for easy identification.


Note: The volume slider only affects the test tone and will not permanently set your speaker volume.


Tap the ➕ button to add a channel you wish to use for this Space. A ✔️ represents a channel that has already been added.
Once all of the desired channels have been added, tap Next.





You will now see a list of unconfigured speakers. Tap each speaker to configure the speaker details.





Name: Give your speaker a recognizable name for easy identification.
Position: Provide the speaker position coordinates as measured from a reference point like a room corner. Learn more about how to determine speaker locations.
Speaker Type: Select the speaker type based on frequency response.

Small: 120Hz crossover
Medium: 100Hz crossover
Large: 80Hz crossover
Subwoofer

Acoustic Calibration: You can use the onboard pink noise generator to perform speaker level matching.

Important: Acoustic calibration ensures that Spatial Reality can accurately render content. Learn more about how to calibrate speakers.



Once each speaker is configured, tap Save to save your configuration and create your Space. You'll be prompted to restart Spatial Reality to ensure that this newly created Space is activated and available for Spatial Studio and Spatial Control.
To make edits to your Space or speakers later, go to the Manage section in Spatial Control.
Determine Speaker Locations
Determine the locations of all speakers that are in this Space by measuring their position in 3D space as measured from a reference point. You will need a tape or laser measure.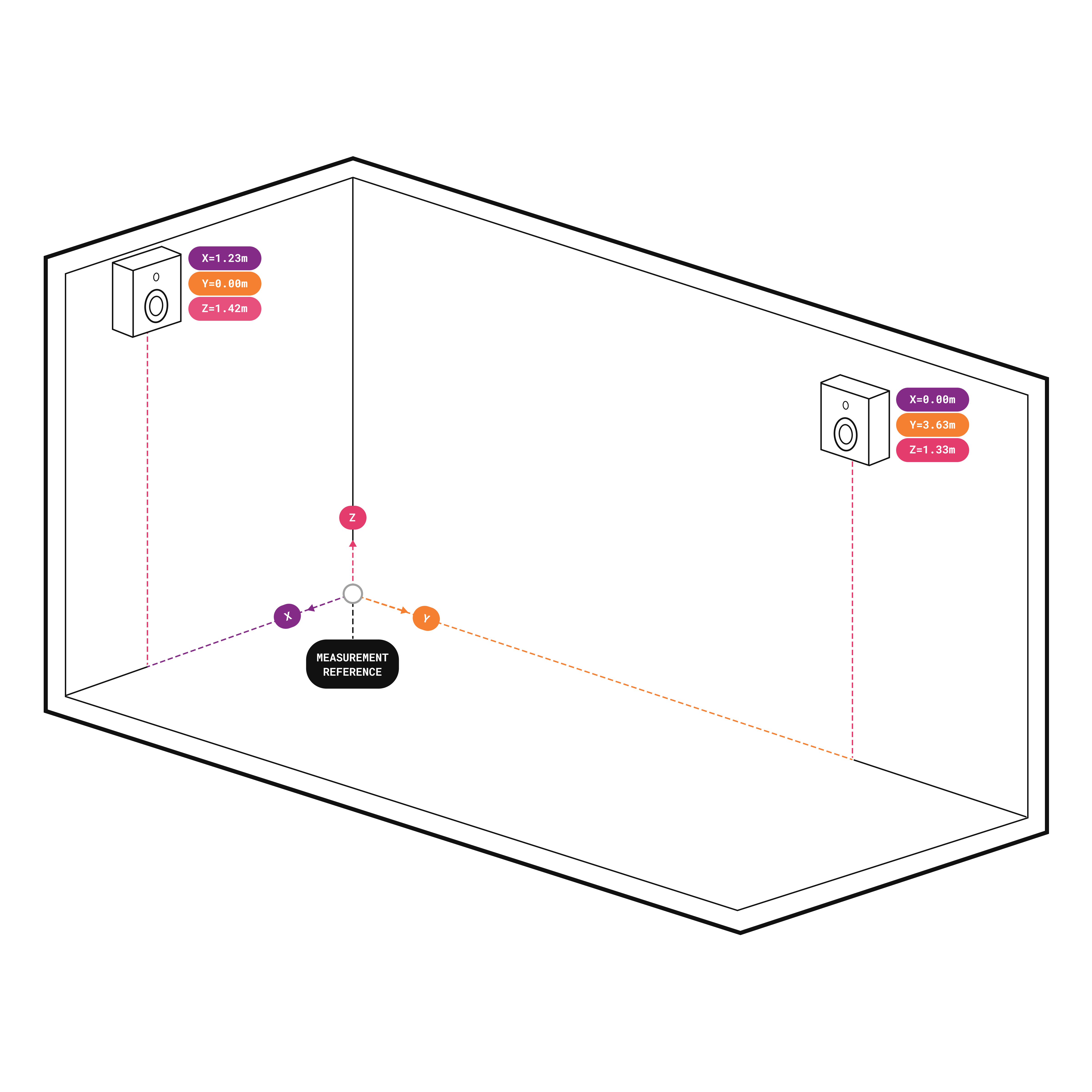 Picking a Measurement Reference
We recommend picking an easy reference point like a room corner.


Measuring Speaker Locations
Using a tape or laser measure, measure the position coordinates of each speaker relative to your measurement reference.
x-coordinate, y-coordinate are classic xy 2d coordinates.

x-coordinate is usually the short side of the room.
y-coordinate is usually the long side of the room.

z-coordinate is measured referenced to the floor (floor being z=0).